Book Recommendations
All of my favorite book recs in one place.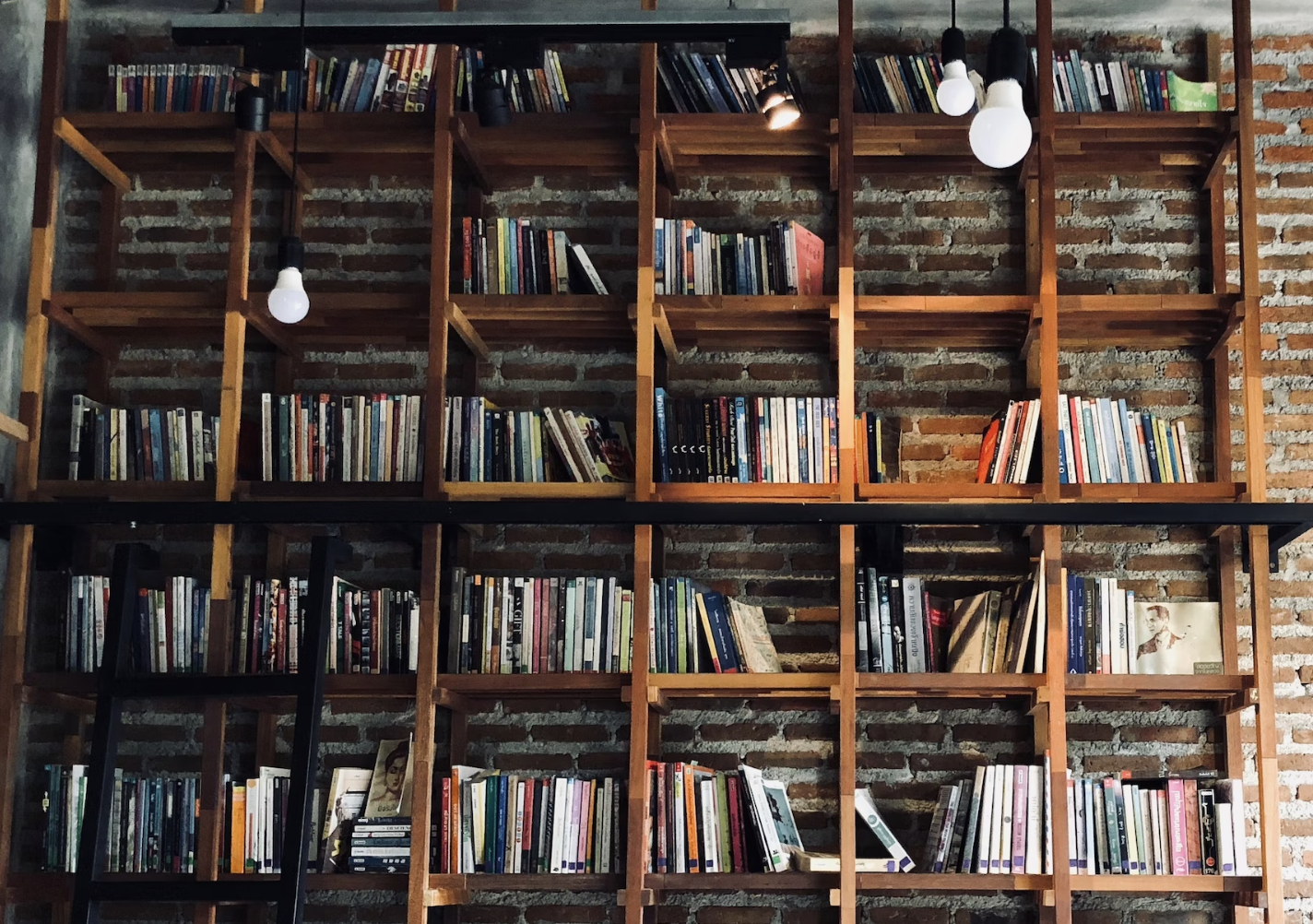 Whenever I visit a person's home or office for the first time, I like to look at their bookshelf. I think you can tell a lot about a person based on what's on it. It gives you a potential idea of their quirks, obsessions, areas of expertise, and so on.
So here's my bookshelf. You can use the dots on the right side of the page to navigate to different book categories, or feel free to scroll (a lot). Maybe you'll learn a little about me. More importantly, maybe you'll find the next book you need to read!
Table of Contents
The Books that changed my life
ALL BOOKS SHOULD CHANGE THE WAY YOU THINK. BUT SOME BOOKS CHANGE YOU. THESE ARE THE BOOKS THAT HAVE THAT HONOR ON MY JOURNEY SO FAR.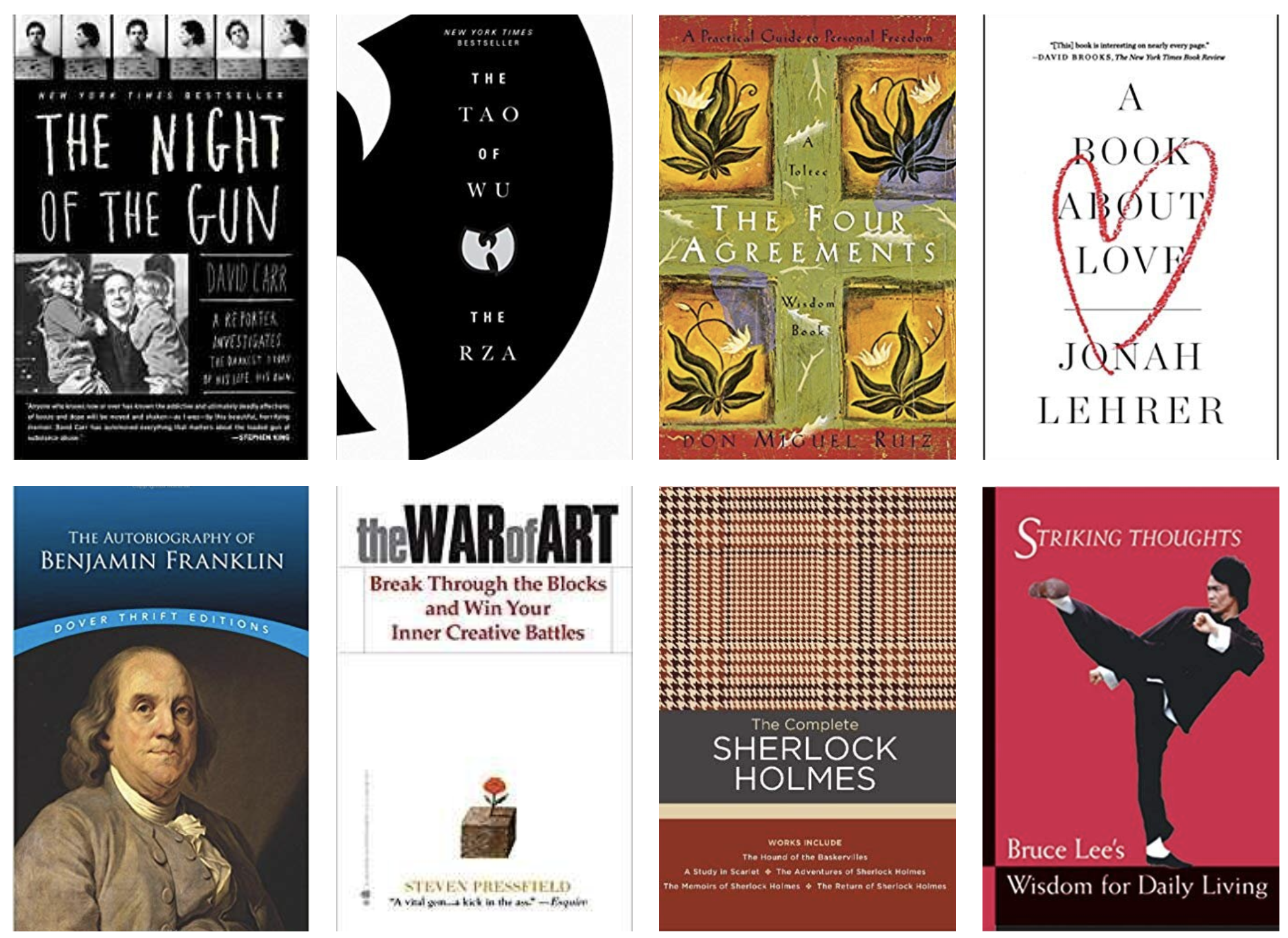 David's memoir, where he investigates his own drug-riddled past by interviewing people who knew him, is one of the most simultaneously heart-wrenching and motivating books of all time. It's also an example of what I would call "delicious" writing. His sentences are so good.
RZA's part-memoir, part-philosophy book completely changed the way I see the world and live my life. You don't need to be a hip hop fan for this book to blow your mind.
This book helped make me a better person practically overnight. It gave me a vocabulary that I use when speaking to myself when life gets hard or disappointing, and it's helped me develop more temperance and intellectual honesty.
This book helped me get through one of the hardest times in my life. It's not just a fun, nerdy journey into the science of all kids of love—it's about self-forgiveness after mistakes, relationships, meaning, and so much more. I've bought copies of this book for more people than any other book. If anything, the introduction to this book is about as close to perfect writing as you can find.
Ben Franklin was a polymath. He changed the game in multiple industries, and his work has now influenced billions of people's lives. Reading his own story of how he thought and worked transformed the way I think and work.
This book changed my relationship with writing, and with work in general. If you've ever faced "the resistance" in your own mind, you'll enjoy this book immensely.
These are the stories that made me want to become a writer. They're a ton of fun, and wicked smart. No wonder everyone in Hollywood is still trying (and not fully succeeding) to capture their magic a hundred years later.
I read quotes from this book every time I'm about to do something scary. Bruce was a genius. Sad we lost him at such a young age. I imagine what his wisdom would have been at 70.
The best teamwork & leadership books
Of the three big categories of "business books"—leadership & teamwork, business strategy, and domain-specific business knowledge—I think that teamwork and leadership is the most universally useful and applicable category that can make any business better.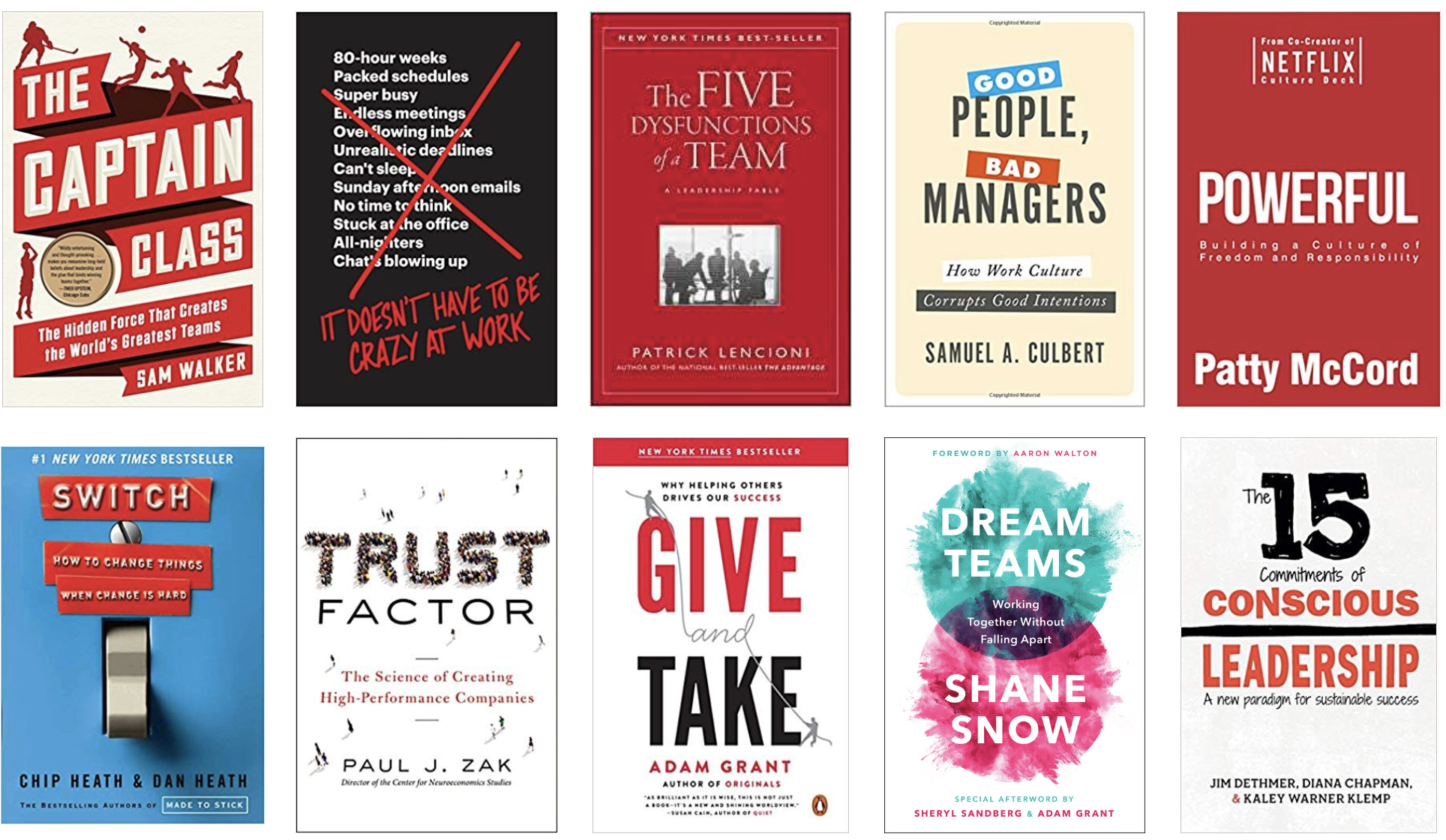 As a journalist covering businesses for many years, and an author of a few business-ey books myself, I've ended up reading a lot of awful business books. My problem with a lot of them is they often have an idea that can be summed up either in the subtitle or the first two chapters. Why a whole book then? Other business books aren't worth reading because they just tell you the obvious, or they promote a narrow set of things to do that worked for the author, and present them like they're universal.
My favorite kinds of nonfiction books either dig down to underlying principles or explore truly big ideas—and they use science rather than anecdotes. That's why I've narrowed down all the teamwork and leadership books out there to to following 10 that are universally worthwhile.
I believe that if you read the following books, you'll be a better leader and/or team player than 99% of the world.
There's a reason this is one of the top-selling business books of all time. In this fictional allegory, Lencioni entertainingly lays out the core things that go wrong with most teams, and gives us a starting point for how to address them. This book set me and other researchers up for a treasure trove of work on team science in the decade(s) after it came out.
DREAM TEAMS, BY SHANE SNOW (SHAMELESS PLUG!)
I'm putting my own book in here because I do believe it's one of the best things out there on innovative teamwork. It draws from the work of hundreds of brilliant psychology, neuroscience, and business researchers—and the stories of many incredible people in history—so I can't take credit for its insights myself. I put it after Lencioni's book because it very much builds off of the great work he did in his classic.
This is one of the most transformative leadership books I've ever read, and I've seen the powerful effect it's had on many great leaders in my life, too. It will help you, as a leader, to take responsibility for yourself in order to help your teams succeed.
These two books will take you less than an hour to read each. They're the most distilled team and management wisdom you can find, complete with fun illustrations. These guys are two of my favorite contrarian thinkers—and they're right more of the time than most mainstream business gurus.
The neuroscience of high-trust teams? Yes, please. Entertaining stories and a completely not boring delivery? Please and thank you! Dr. Zak's books are all incredible, and this is one of the most relevant things you can read if you run any kind of team. It holds a special place in my heart under the label, "Science, Not Bullshit."
The timeless wisdom contained in this book is right there in the subtitle. Freedom + Responsibility is the overarching philosophy of great cultures (from nations to companies). How to make that work—well that's more complicated. This book is one of my favorites for getting to teamwork's brass tacks.
I'm not a sports guy, and this was still one of the most entertaining books I've ever read. Sam researched the world's greatest sports dynasties of all team sports of all time—and wrote about the hidden patterns that makes them work. This is a book I will come back to again and again.
The fundamental job of leadership is to get people to do things that they wouldn't otherwise do—either because they don't know, don't want to, or don't know how to. This book is the best book on change management and leadership that I've ever read. It's a rare business how-to book that you'll want to read all the way to the end.
This book will scare the shit out of you. And for good reason. For his whole academic career, Dr. Culbert has studied how managers go wrong—and how it's precisely our good intentions and common wisdom that does it.
Adam's groundbreaking work on generosity in the workplace is some of the most exciting business research in recent memory. Turns out that being excellent to each other is a winning strategy for career and business growth. Read this book especially if you want a trove of heartwarming, but important things to talk about at drinks after work.
The best Innovation books
Innovation is about changing the game (not playing the same game better). These books will help you do that: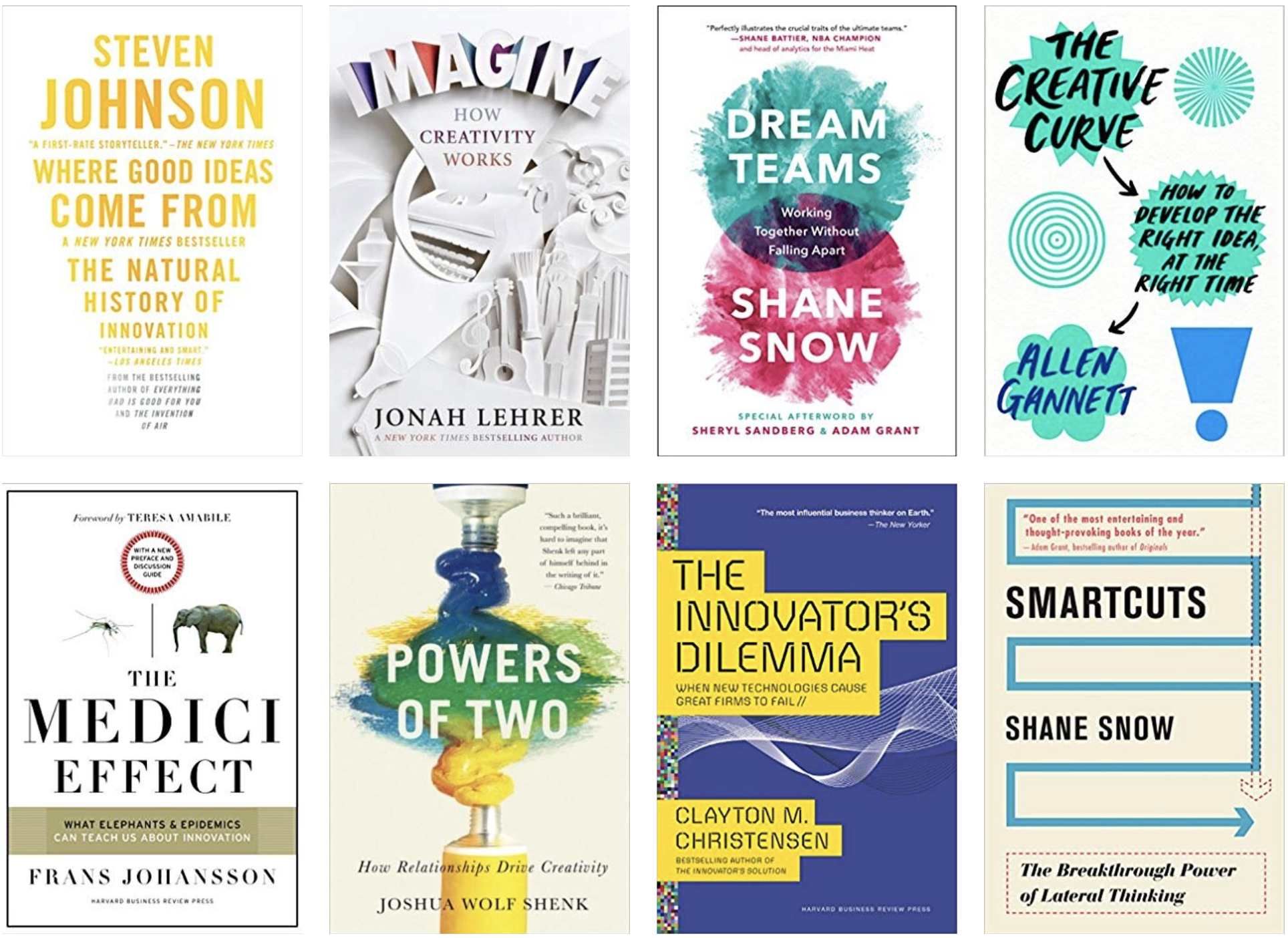 Most advice about "innovation" is really just tried-and-true business strategy and "best practices" (aka average practices) for problem solving. But to truly change your game, you need to truly think different. Innovation, for all practical purposes, is the application of creativity. These books will help you understand how those—innovation and creativity—work, and how to think about thinking different.
Steven Johnson's books all circle around the nature of innovation in some way, but this one lays out the how of innovation best. His notion of "the adjacent possible" is immensely useful to understand, and this book makes its message stick with fantastic stories from history.
This is the book that got Jonah in trouble. At this point, I believe he's more than paid the price, and this book deserves a second look. Aside from a made-up Bob Dylan quotation, the science here is solid, the stories are awesome. I dare say Imagine is the best book on creativity ever written.
I'm slipping my book in here because whereas it's advertised as a book about collaboration, the core framework is about using a group of people and their different ideas to do exactly what Johnson and Lehrer map out in the first two books in this list. The "hack" for innovation, as it were, is to get the right people together, under the right conditions.
If Imagine is all the delicious stories and science of how creativity works, The Creative Curve is its more practical cousin for the individual innovator. Do you want to be more consistently innovative? Allen's book gives you a roadmap to follow, and stories to remember it by.
This book lays out a simple, provocative truth: Innovation happens at the intersection of things that aren't like each other. Art and science. Gravity and clocks. Biology and toymaking. I would have put this on my "list of books you don't need to read" because this book can be summed up as "smash different things together," but the stories and examples make it worth the read.
This book gives a hundred delightful mini biographies of creative pairs throughout the history of innovation—from the Wright Brothers to Paul & John of the Beatles. It works on the same premise as The Medici Effect, but with enough examples from enough different fields and time periods that it's sure to spark a Medici effect in your own head for whatever you're working on right now.
This is the book that brought the terms "disruption" and "disruptive innovation" to the world. It's an absolute classic, and absolutely genius. But I don't think you actually need to read it. Why? Check out my one-paragraph summary of this book on my "list of books you don't have to read."
And for a bonus:
This book is meant to help entrepreneurs and intrapreneurs work smarter, but I recommend checking it out if you want to understand how to think like an innovator. I consider Smartcuts a sophomore book effort, but the reviewers from The New York Times, Financial Times, Maxim, and others loved it.
The best Pop Science books
The point of pop-science is you shouldn't need to be a scientist to enjoy it. These are my favorite deliciously nerdy-yet-useful books: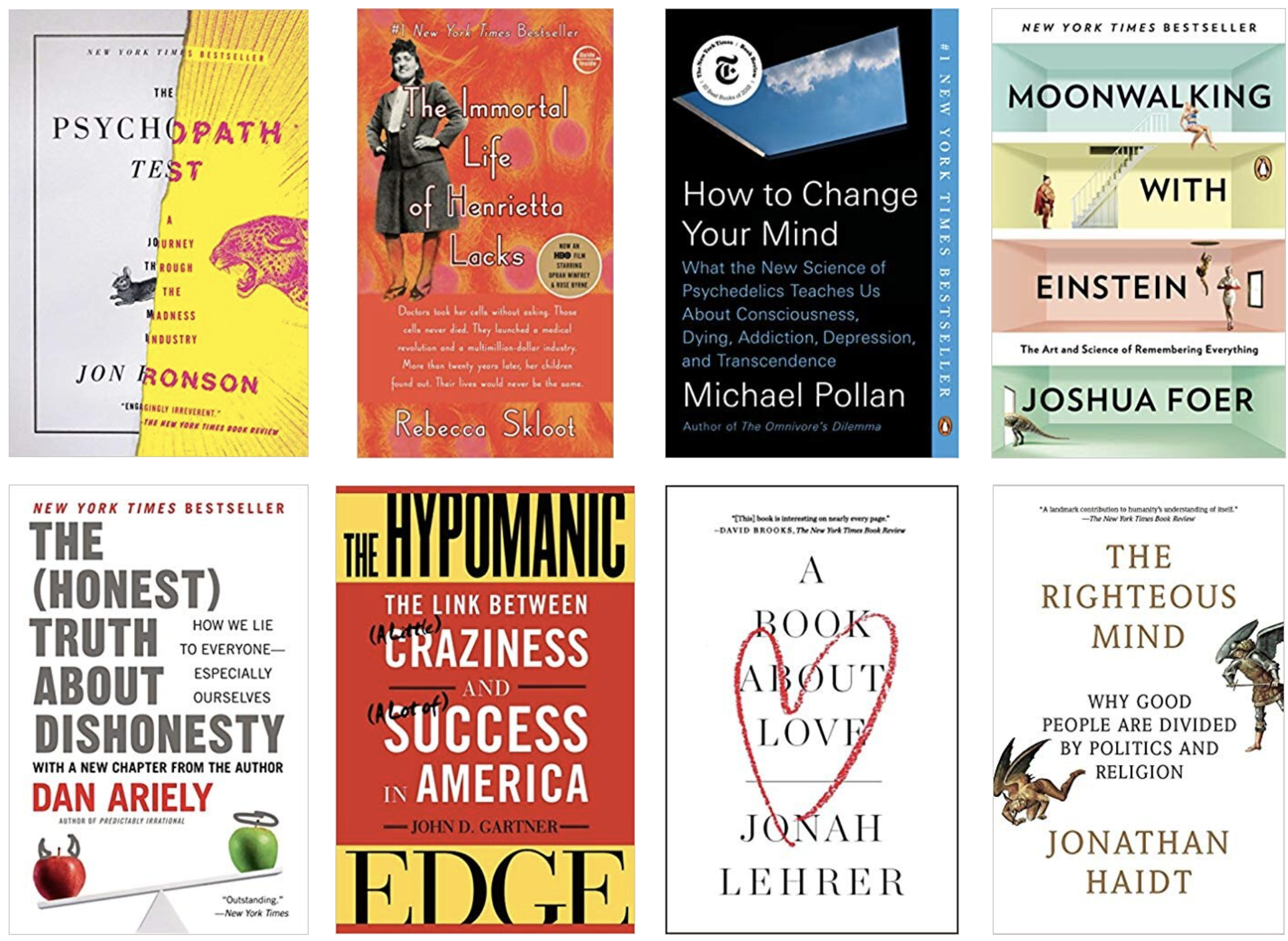 Some time ago, one of my favorite pop-science writer buddies told me he defined what he did as "self help in disguise." In my opinion, that's the best possible kind of nonfiction book: one that helps you see or behave differently, while making you think you're having fun.
Honestly, that's the best kind of teacher, if you think about it.
That's why pop-science is one of my favorite genres. Unfortunately, a lot of scienc-ey books have the same problems as business books—where they spend a whole book on something that could have been an article. But that's why the list of books below is so special.
Jon Ronson is one of the best nonfiction writers in the world. Of all time. His writing speeds you along, and is funny as heck. This book in particular is my favorite of his because it explores the nuances of mental health in a way that is both incredibly important and delightfully fun.
Another one of the most important science books ever—this one took Rebecca a decade to report and write, and it was worth it. This is the crazy, true story of a poor woman whose cancer cells changed the entire medical industry and saved countless lives… and whose family got nothing for it. The science in this book is fascinating, and the human story is one you should know.
Almost everybody lies, but just a little. A small percentage of people will lie a lot and not feel bad. And a small percentage will never ever ever lie. Why do the rest of us fudge without really thinking about it? This is one of the best books of scientific-studies-made-easy, and it's an important message as well.
There's a reason Malcolm's books are such monster sellers. He's one of the best pop-science storytellers in history. I love The Tipping Point the most, because it's the most surprising of all his topics (in my opinion), and because it's his first and will whet your appetite for his others. If you want to get someone who doesn't read nonfiction to read nonfiction… start with this one!
This is one of the most surprising books ever. It's about history and mental health, and will help you understand the science of mania (e.g. maniacs, e.g. manic-depression) and also what was going on in the heads of famous crackpot explorers and entrepreneurs. I recommend this book for anyone who's a business owner, a leader, or who's into politics especially.
Clive is one of my favorite science and technology writers of all time. And this, his first book, will help you understand your own brain and the way technology is changing it. Clive is one of my own writing inspirations, and his articles and posts on Medium are worth an afternoon or two of your life—for sure!
This is a first person narrative adventure about a guy who gets taught by memory champions on how to become a memory champion. It sneaks in lots of fun science about how the brain and memory works—and has a crazy ending that's so worth it!
Probably the coolest science book to come out in my lifetime. This is the book that explains how psychedelics (LSD, magic mushrooms, ayahuasca, et. al.) became illegal (Nixon) after being used as supervised medicines for millennia. And it dives into how these chemicals work in our brains, and how they can help us fight depression, existential dread, closed-mindedness, and more. So awesome.
Give this book to any kid who thinks they don't like math or science. It's an illustrated, comic-like guide to the real math behind all sorts of hilarious scenarios—like what would happen if you drained all the water from the earth and put it on Mars, or what if you could throw a baseball at the speed of light. It's a perfect example of how putting fun into science makes science-fact better than fiction.
One of the most important books of our time—this book lays out the psychology and evolutionary biology of morals. Why do we feel that certain things are "right" or "wrong?" And why do different people have different feelings about what's "wrong" than you do? Dr. Haidt's groundbreaking work on this subject will change the way you look at, and argue about, politics—and a whole lot more.
This is one of the most interestingly-written books I've ever picked up. It's like… proverbs, or poetry, or… something. And it's fascinating. It explores a confounding principle that we see everywhere in life: in order to build muscle, you need to make little tears to your muscles. If what doesn't kill you can make you stronger under certain circumstances (e.g. if it doesn't maim you). You will feel smarter and see the world differently once you read this book.
This book is on my list of books that changed my life, and for good reason. Jonah's own personal journey of self-forgiveness, and his quest to understand love from a science perspective is heart-warming, hear-rending, and imminently useful. I suspect I'll re-read this book a dozen more times before I'm done.
The best biographies & history books
THESE HISTORICAL ACCOUNTS WILL CHANGE HOW YOU SEE THE WORLD: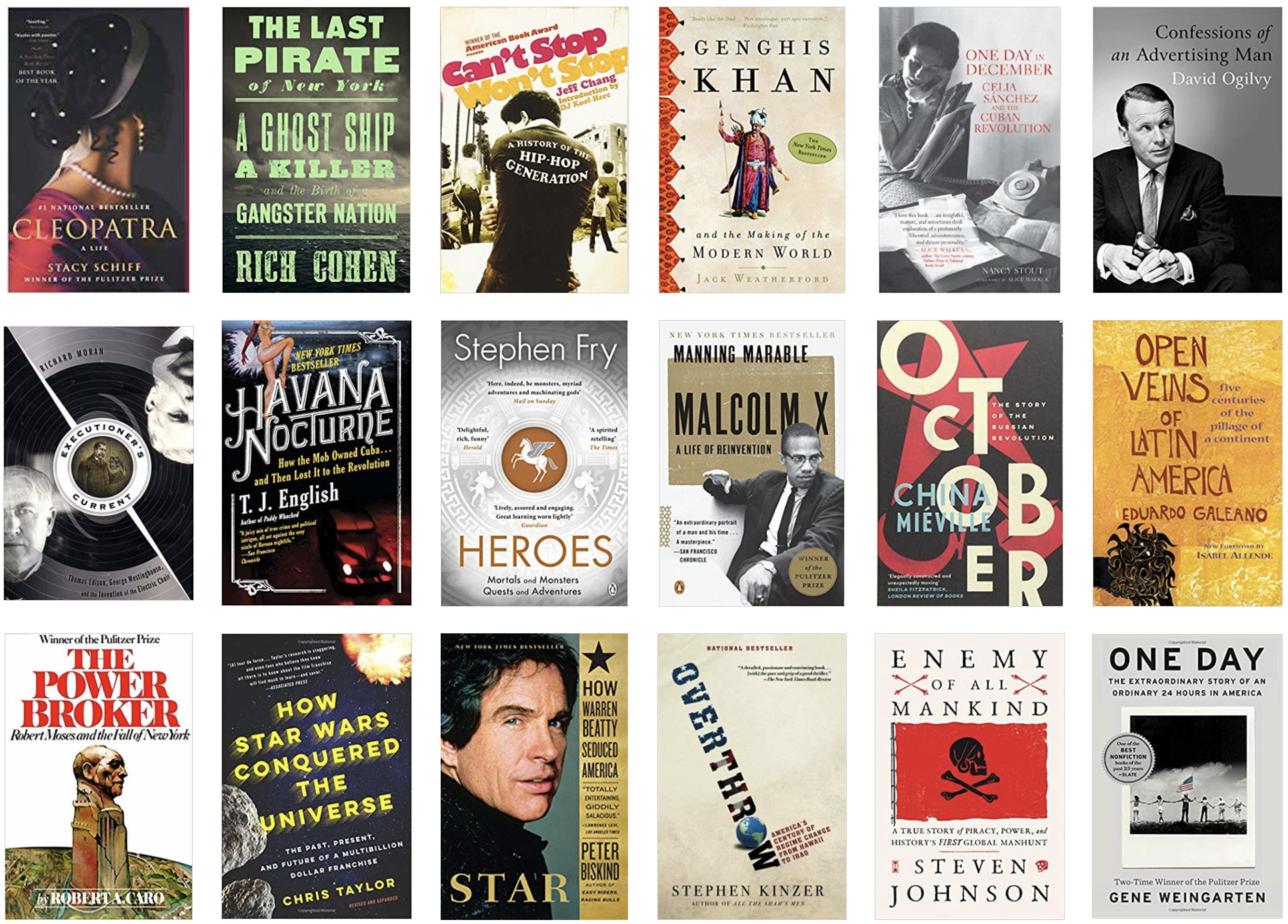 Below is a selection of biographies and histories that, dare I say it, are out of the mainstream. These stories are delightful fun, and I think provide important perspectives on the world (even the Star Wars history—trust me!) I've split this list up into two sub-categories. But forgive their imprecision:
BIOGRAPHIES YOU REALLY MUST READ:
We all know who Cleopatra was. But do you really know what she did? I don't know why they didn't require this one in school. It's so cool.
One of the most fascinating and mostly-forgotten characters in modern history. Celia Sanchez was the operational brains behind the Cuban revolution. She fought the good fight, kept the 20-something revolutionaries from getting themselves killed… and then did she become complicit in Fidel's betrayal, killing and jailing of his friends to consolidate power and become the bad guy they just got done overthrowing? I took a jouncey road trip across Cuba to visit Celia's home and key sites of her journey—and came away in awe of what this woman did, for good and ill.
If you manage to read the whole thing, I'm pretty sure they put your photo up on the wall somewhere. This beast of a biography will teach you more about New York, politics, and gangsterism than a whole library of history books.
Speaking of gangsterism, this tale of a forgotten pirate-turned-gang-boss who helped shape New York (and America) is stunning.
Ogilvy basically invented modern advertising. Then modern advertising bastardized everything he invented. In this book you'll read the man's philosophies on how to persuade without losing your soul, straight from his typewriter.
Malcom X's autobiography is 100% worth reading, but it was so popular that I'm guessing you've already had the chance. Manning Marable's critical examination of Malcolm's life is so journalistically rigorous that it reveals an extra 50% more insights than the autobiography did. (The autobiography wasn't even done when Malcolm was assassinated.) This book made Malcolm even more human—and great.
This is my salacious pick for those of you who need a juicy story once in a while. Warren's outrageous life story is all juice, as it were.
If you haven't read this one, just read it. Let's talk later.
FANTASTIC (SEMI-NICHE) HISTORY BOOKS:
The best re-telling of the heroes in Greek mythology—and hilarious cuz it's Fry.
This book will teach you about writing, about business, and about humanity—even though it's ostensibly about the creation of the world's greatest space opera. The history of Star Wars is not so simple as you thought. I couldn't put this book down!
The history of hip hop is incredible. It's a case study in innovation, virality, perseverance. This is the history of the culture it created.
China normally writes experimental horror stories. His sentences are delicious, and his plots are outrageous. But then he took a crack at re-telling the October 1917 Russian Revolution—and as you can imagine, he did a better job than any of the 100s of historians who told the story in the past. Just in time for the Revolution's 100th anniversary, this book blew my mind.
The less-known story of the Cuban revolution and subsequent U.S. trade embargo is the fact that the American-Italian mafia owned most of the island through corruption and was pissed when the people took their country back. This is the scheming story behind the scenes that explains some of the irrational behavior the U.S. has had toward Cuba versus other countries with worse sins.
Did you know we got the electric chair because Thomas Edison wanted to fuck over his chief competitor, George Westinghouse? Did you know Edison tried to actually coin the term "Westinghouse" as the word for being killed by electricity? How, after these kinds of shenanigans, did Edison not go down in history as a creep? This is one of the coolest micro-histories I've ever read.
This book is passionate but sad but important. A classic in Latin America, but hardly read outside of it. I recommend it for anyone who wants to care more about the U.S.'s neighbors.
OVERTHROW, BY STEPHEN KINZER
I put this fast-paced history book on my list of most important books today because it will alter your point of view on the U.S.'s relationship with the rest of the world. It's the story of every time the U.S. overthrew a government—and how most of those times were shady as hell. It reads like a thriller, and it will help you understand just why so many countries are scared of America.
Stephen Johnson is one of my favorite authors on innovation, but this book takes a bit of a turn from the usual. It's about the most famous, successful, and mysterious pirate in the early history of pirating. But it's also actually about how corporations and governments first became intertwined during the East India Company days—and a lot more. Super fun read, and surprisingly insightful from that innovation standpoint after all!
ONE DAY, BY GENE WEINGARTEN
Weingarten is one of my favorite writers of all time. He's got this incredible ability to make dark and tough topics bearable, meaningful, even light. That's powerful, because we need to talk about hard things if we want to get better together. This book is an exercise in celebrating humanity. He takes one random day on a random year and reports a bunch of incredible true stories that happened to everyday people that day. Trust me, this one is magnificent!
The best self-help books
Self help books—what a bunch of bollocks. Except these ones: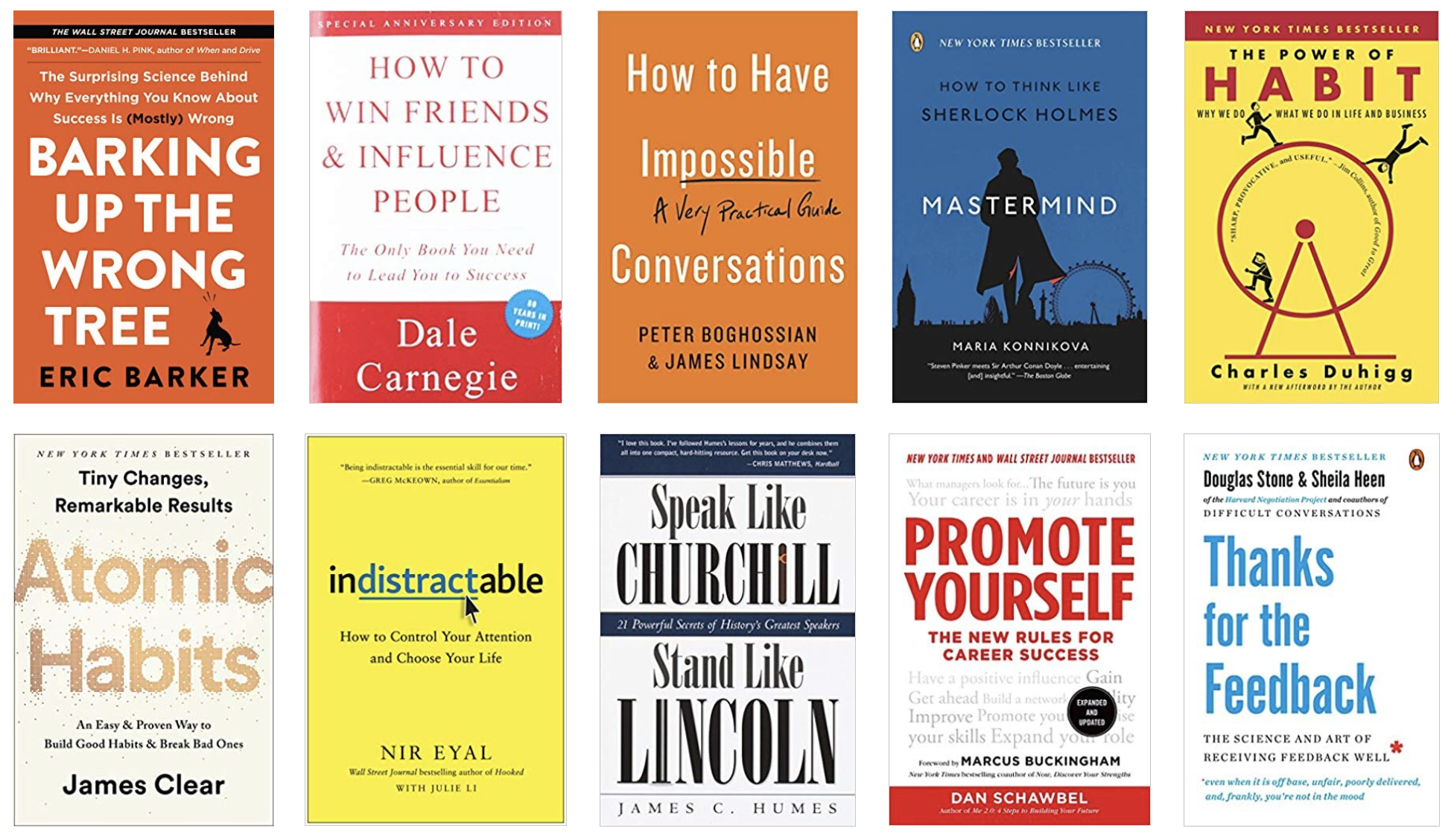 So much of the self-development book genre is wackadoodle. When I look for personal development books, I look for stuff that's a) actually worth a whole book on, and b) not full of platitudes. These books fall squarely in the center of that Venn diagram, and I think can help you, too!
If there's one book that can help you be a better public speaker, it's this one. It has 21 solid tips and a lot of stories to help them stick. (As a bonus, check out Joe Lazauskas and my book The Storytelling Edge for advice on how to tell great stories—one of the most useful skills of a public speaker.)
This one might actually belong on my list of the best pop-science books ever, but I put it here because this book is so helpful for learning how to think smarter. And Maria is a genius; all of her psychology articles at The New Yorker are brilliant.
This is truly the most powerful book for understanding humans and their habits. It's the perfect for whetting your appetite before getting down to brass tacks with the next book on this list:
James's monster hit here promises a "proven" way to build new habits and break old ones. And it's a monster hit because it delivers on that promise and more. The way James breaks down the process of making a habit actually happen is super accessible. Unlike so many other habits books of eras past, this one doesn't just tell you to spend 28 days doing something and magically having it become a habit. James shows it's so much easier (and less about wishful thinking) than that.
This is the best book out there right now for building the specific habits that will let you take control of your own life. If you want to not "get got" by all the companies and people who are vying for your attention and time—or if you want to raise kids with a high level of personal responsibility, this book is for you. I think it's one of the most important books of our time right now.
Holy moley is this book awesome. Boghossian has spent a lifetime studying, researching, and teaching how to have civil conversations with people who suck (or who just don't want to see eye to eye with you). This book will teach you how to be persuasive and how to defuse conversational tension—more than any other book out there.
This is one of the only "success books" I truly recommend to anyone. Eric's newsletter is one of the only ones I consistently read, and this book has his greatest, counter-intuitive material on how to think differently about success in business and life. It's a success book that's—gasp!—actually useful.
This is still the best example of a self help book in the world. Carnegie's stories (though some of their veracity is dubious) help drive timeless advice home, so that you won't forget it. My uncle Larry gave this to me when I graduated from high school, and the timing couldn't have been better.
Speaking of graduation, I recommend this book to anyone who's entering the workforce. Dan's a master of understanding how to build a personal brand, connect with people, and take credit for your accomplishments while being humble and helpful.
The subtitle of this book says it all: "The Science & Art of Receiving Feedback Well, even when it is off-base, unfair, poorly worded, or frankly you're not in the mood." Honestly, if we all got better at receiving feedback, the whole world would be so much happier. And the truth is, learning what's in this book will make you better at GIVING feedback, too.
Honestly, I am thinking now that every book Maria ends up writing will make it onto my best books ever list. She's able to make complicated psychology easy to understand and implement. In this one, she learns how to play poker and, using what she knows about psychology and what she learns from her poker trainer… and becomes a world champion. This book won't just teach you how to be better at poker, but how to be better at managing uncertainty (and jerks) in LIFE.
The best Modern Fiction books
It's impossible to rank literary classics. But in recent fiction—I have some favorites: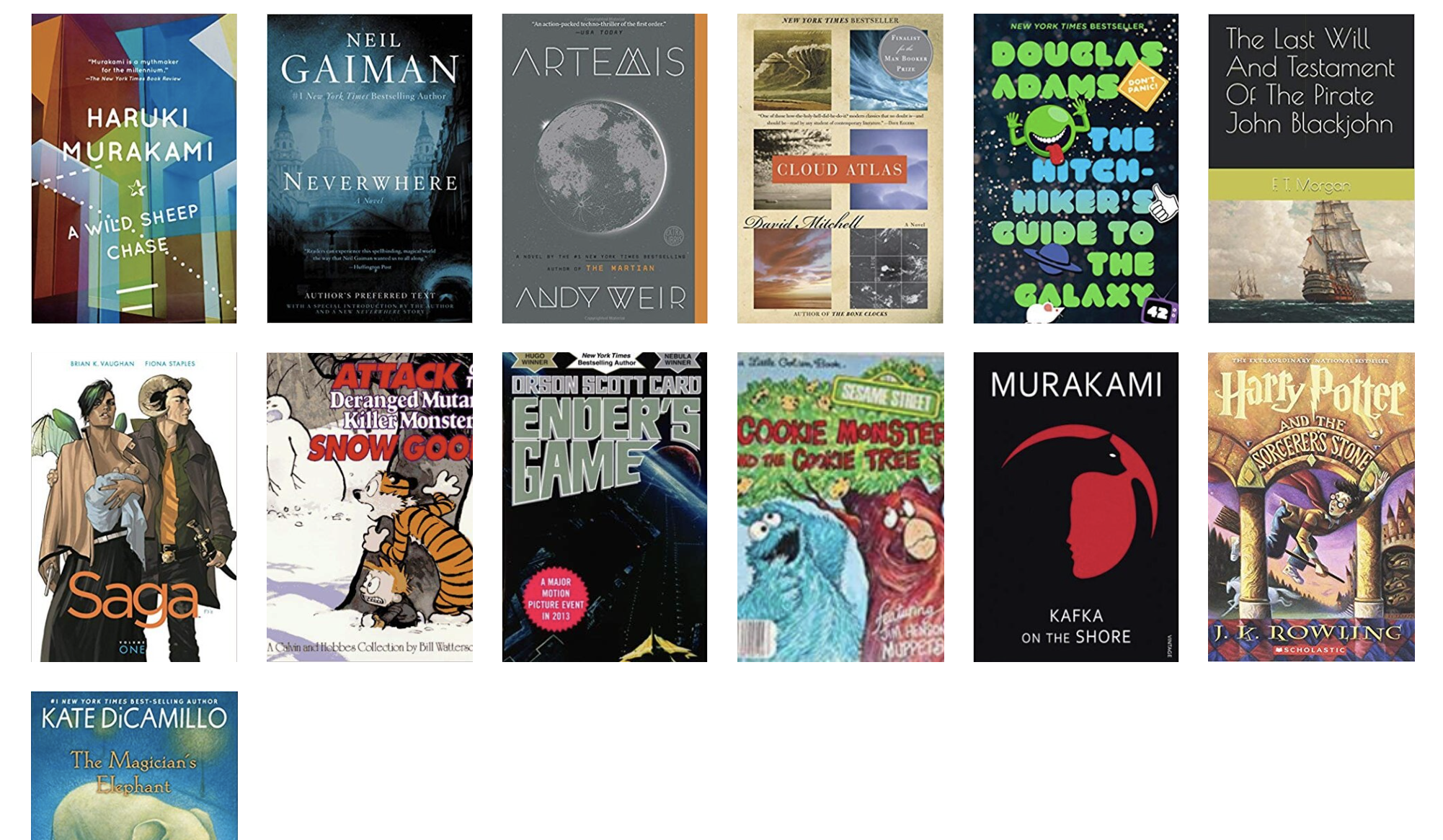 I'm a big fan of the power of fiction to change hearts and minds. Here are the novels that have altered mine in some way or another:
Murakami may just be the greatest fiction writer of all time (G.O.A.T.), and this, I think, is both his funnest book and the best "gateway" to his one-of-a-kind brand of surrealist fiction.
My favorite fantasy book. It's technically "urban fantasy," and it's the best Gaiman gateway IMO.
200 years from now, this is one of the books from our time that will still be talked about. It's heart-warming and amazing, that's all I can say.
SAGA (SERIES), BY BRIAN K. VAUGHAN AND FIONA STAPLES
Greatest graphic novel series of all time. (G.G.N.O.A.T.?)
This is the best collection of Calvin and Hobbes stories. God bless 'em.
Best kids book ever. Loved by adults (e.g. me) to this day.
My man F.T. Morgan has written possibly the best old time Scottish fantasy thriller ever. (What a category!) Shame more people haven't discovered this one yet, but I am pretty sure it's only a matter of time.
It's a bit controversial now (aren't all old books in some way?), but there's a reason this book sells millions of copies to this day. One of the best sci-fi / coming-of-age books.
The totally underrated follow-up to The Martian. It's about a heist on the moon. Need I say more? One of my new favorites.
An example of possibly the most incredible writing in modern literature. Cloud Atlas is a puzzle of several storylines across several eras, with amazing characters, crazy dialogue, and fantastic twists. So clever. Skip the movie and read the book!
Greatest humor story of all time. (G.H.S.O.A.T.!)
I suggest reading A Wild Sheep Chase before you read this Murakami book, as Kafka on the Shore is more trippy. But once you've fallen in love with Murakami's style and strangeness, this book is a mind-bender of a great time. When I first read it, I couldn't stop thinking about it for weeks. (Now that's the sign of a great book!)
No modern fiction collection should be without Harry Potter. If you're reading this and somehow haven't read Harry Potter, go buy the first one now and don't come back til you've finished it! (It won't be hard to get hooked, I assure you.)
This wonderful novel is a new favorite of mine. It's about an orphan boy in a small town who is looking for his lost sister. But it's actually about all the different people in the town with their different hopes and dreams and struggles—and how they come together to make something magical happen. I didn't even realize that I was crying at the end because I was so engrossed.
The best Short Story Collection books
SOME OF THE BEST BOOKS DON'T NEED TO BE FULL BOOKS. HERE ARE MY FAVORITE COLLECTIONS OF AMAZING, PROVOCATIVE, WRITING!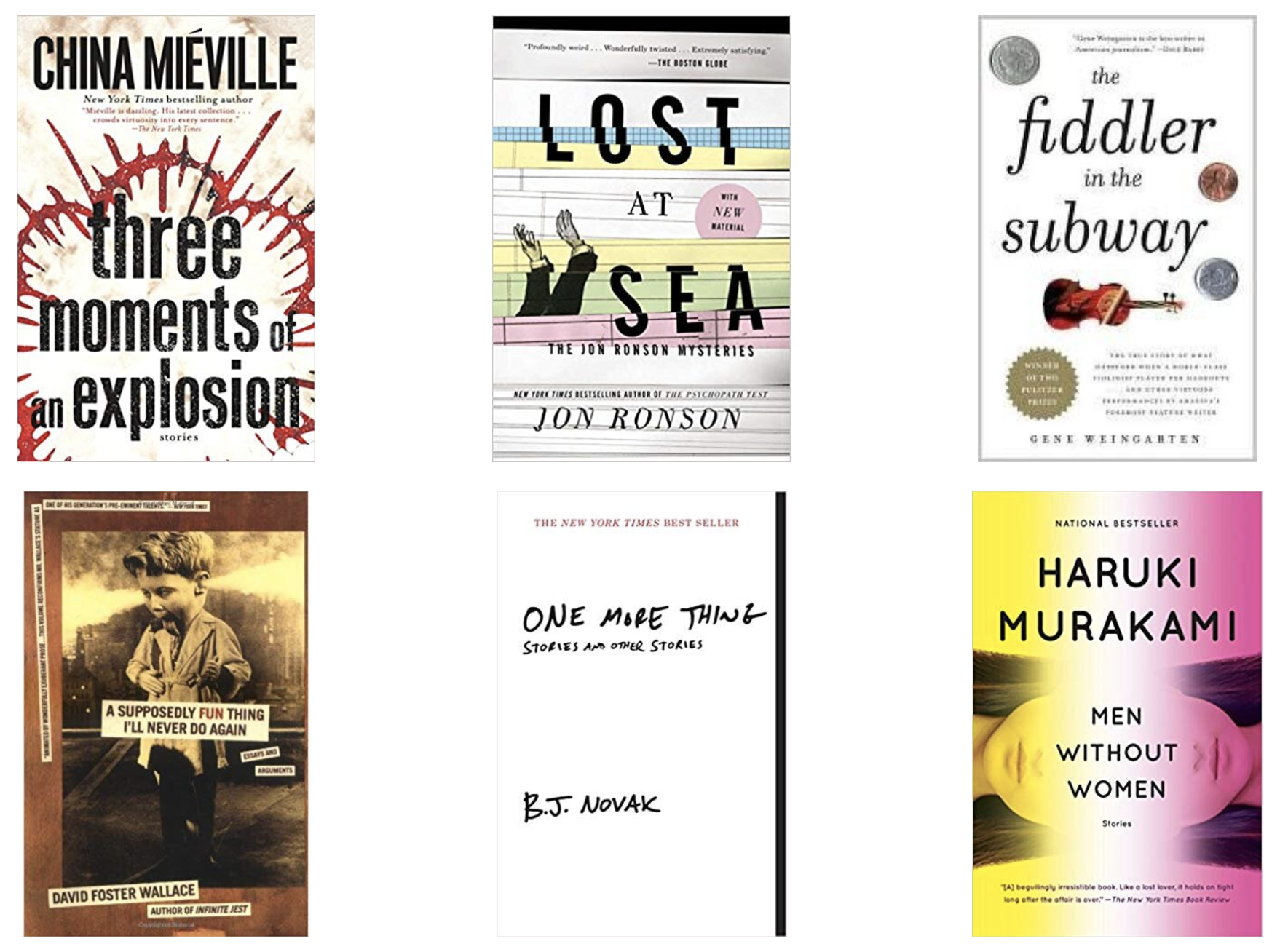 China is one of my favorite experimental writers. These mind-bending, fantastical, and sometimes pseudo-sci-fi stories are SO INTERESTING and thought-provoking. The story "The Dowager of the Bees" is one of my favorites of all time.
Jon Ronson is one of my favorite writers of all time. His writing moves so quickly and makes you laugh even when the subject matter is dark. These true mystery stories explore strange people who are willing to believe or do strange things. The title story is about people who disappear on cruise ships. This will twist your mind right up!
This is one of the books that inspired me to be a narrative nonfiction writer. Weingarten has won the Pulitzer Prize twice for his stories. Possibly the best nonfiction writer of our time. He explores some really tough topics in this book, like people who leave their kids in cars to die—and somehow makes it possible to get through them without wanting to die. His story about the man who wrote much of the Hardy Boys series back in the day literally made me cry.
This is the best collection, in my opinion, of DFW stories. If you love literature, you need to have read some of his stuff, and this is where I recommend starting. The titular essay (again about cruise ships) is the greatest entry point into David's writing—and so effing funny.
I love this book! B.J. Novak is so incredibly clever, and these fictional stories are a pleasure to pick up. His story about Johnny Depp driving his motorcycle off a cliff is the best. Same with his sequel to the Hare and the Tortoise.
Murakami is my favorite fiction writer alive. These short stories about relationships, love, and humans will—true to his style—mess you up. In a delightful way.
The best Books for writers & creators
These are the books about writing and creating art that I think are actually worth their weight (and your time):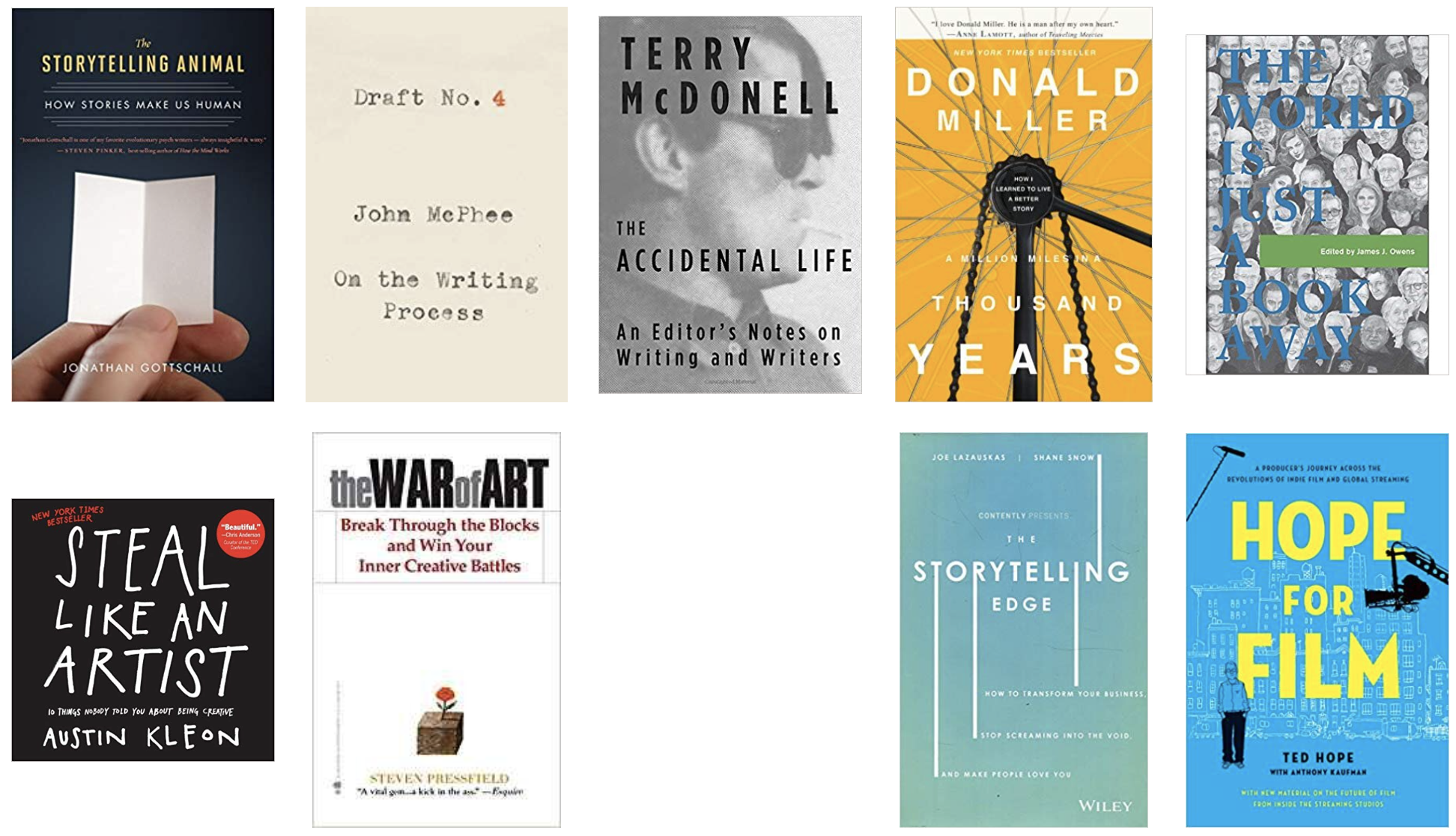 John is an incredible, long-time writer for The New Yorker, and this book on writing is his masterpiece.
Terry was a longtime editor of Rolling Stone and other storied magazines. He edited Hunter S. Thompson and many other super difficult writers. This book is amazing.
This book is beautiful. It's as much about writing and story as it is about life. I'd say it's a MUCH better autobiographical read for writers than so-called classics like King's On Writing.
James spent years hunting down and interviewing some of the world's most incredible people—from Desmond Tutu to Jane Goodall—and getting them to talk about the books and writing that changed their lives. As a result, this book will probably change yours. I put this book on my list of books that will make you a better writer because it's a book that not only gives amazing insight into the kinds of writing loved by the world's most amazing people, but also makes you remember just why writing is so important in the first place. (There's no better cure for writer's block, IMO.)
This book is an amazing one for any artist—but I find it especially helpful as a writer. I come back to it often. And it's super easy to get through, as it's mostly charts and clever sentences.
Anyone who's ever had writer's block, faced The Resistance, or been stuck NEEDS to read this book. It's an absolute, cathartic, inspiring pleasure.
THE STORYTELLING ANIMAL: HOW STORIES MAKE US HUMAN, BY JONATHAN GOTTSCHALL
This book is less known, but should be more known. It transformed the way I think about telling stories and building relationships with my readers. It very much set the foundation for Joe and my book:
This is the book about writing and storytelling for business. We're proud of it!
When I started getting into writing for the screen, I read a bunch of memoirs by famous directors and producers to get an idea of how the film and TV world works. But none of them hold a candle to Ted Hope's book here. This guy is behind some of the best movies of our time—and is one of the most innovative thinkers about writing and producing movies that I know if—and yet he's humble about it. This book is both about becoming a better writer, storyteller, filmmaker, etc… but also it's about dealing with people well, so that you can do the creative work you were meant to do.